We are a family owned and operated business
We value hard work, quality and integrity. Above all, we value our customers who have trusted us in the past and allowed us to continue to offer our quality services.
You can trust us to do a quality job and to do it right the first time.
Our goal is to establish loyal long term mutually beneficial relationships with all of our customers.
Principles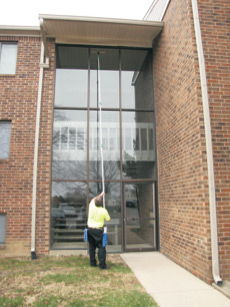 Quality, Service, Professionalism and Dedication
Our principals are those of conscientiousness, courtesy to our customers, moral and professional behavior and to provide the best service possible. In order to achieve these objectives, we must consistently attract the best employees in the field. One way to do this is During the hiring process, candidates must undergo background checks, driving records and drug screening, to ensure you have the most trustworthy staff.
Our employees are dedicated and always maintain a professional attitude. We pay high attention to detail, providing you with many cleaning options to ensure satisfaction.
When we commit you to do the job, we pride ourselves in being on-time and working until the job is completed.
While there are many window cleaning companies in the Indianapolis area for you to choose from, our principals are what set us apart from the others. Our job is to make you happy and take the stress out of cleaning!